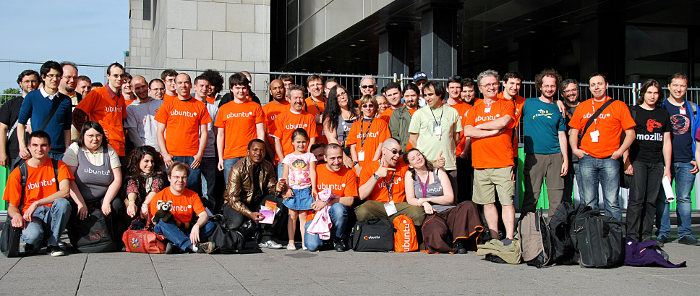 The challenge
With Ubuntu now running across all form factors and devices and entering the mobile space, a new era begins. While our values remain the same, we've now faced with a unique opportunity to drive adoption of our favourite Free Software OS to a user base that could potentially be one or two orders of magnitude bigger.
We've layed out the foundations of an innovative and scalable platform that provides a stunning experience for regular and power users, and that is a delight for developers to use. Years of experience, user testing and design on the desktop, pioneering work on the cloud and the app development story for the phone are some of the key aspects that have made it possible.
In this new era our community is more important than ever, with LoCo teams and the LoCo Council at the forefront. Ubuntu contributors, enthusiasts, evangelists, advocates… with your events, initiatives across the globe you are all making it happen.
With virtual UDS happening this week, we'd like to kick off a series of discussions to come up with a solid plan on how to re-energize and empower LoCo teams to scale up to these new challenges, and to involve them in the technologies and projects that are driving this new chapter in Ubuntu. The contribution of leaders in our LoCo community and the LoCo Council will be key to our success here.
The sessions
From the 19th to 21th of November, both the Community and the App Development tracks at UDS will be full with LoCo team sessions, and we'd like all advocates and everyone involved in Ubuntu local community teams to participate and contribute to our LoCo plans this cycle. Here are the sessions this week:
LoCo projects
An initiative to work with LoCos to provide projects and outcomes for those teams and individuals looking for ways of contributing to Ubuntu. We'd like to create "LoCo projects", a pool of projects LoCo teams can participate in as a team.
Join this session >
LoCo Portal promotion
The LoCo Portal is the window to the vibrant activity of our Ubuntu teams, and we want to come up with a plan to promote it and use it to highlight the awesome work that's going on in the LoCo world.
LoCo Leadership growth
New challenges require leadership, and we'd like to work with the LoCo Council to grow a team of leaders to drive the global LoCo community.
LoCo community involvement in App Development
App development is an exciting new area that is becoming key to the success of Ubuntu among mobile users. We're at a point where the platform and infrastructure is ripe for LoCo teams to get involved and start spreading the word and running Ubuntu app development events.
Build materials for the App Dev Schools initiative
Growing the number of learning materials to write apps for Ubuntu will be a key focus for next cycle, and it offers a great opportunity to share knowledge and help others getting started creating content for the platform. Join us to discuss the plan to create a set of materials and presentations for the App Dev Schools.
Campaign to grow the number of tutorials videos
As an extension to the App Dev Schools initiative, we'd like to come up with a plan to publish a series of short, topic-based app development tutorial videos.
Looking forward to seeing you all at UDS this week!
Image 'Photo de grouple' by rocknpol under CC BY-NC-SA 2.0

Source: David Planella's blog