This weekend from Saturday 13:30 UTC through Sunday 03:00 UTC the Classroom team will be hosting Ubuntu User Days!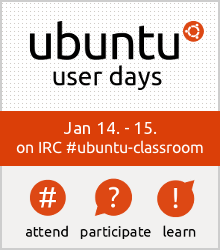 User Days was created to be a set of chat-based classes offered during a one day period to teach the beginning or intermediate Ubuntu user the basics to get them started with Ubuntu. User Days sessions include:
find equivalent programs in Ubuntu
learn how to get help
learn the basics of how to use the command line in Ubuntu
learn how to get involved in the community
So join us by coming to #ubuntu-classroom on irc.freenode.net (#ubuntu-classroom-chat for questions) this weekend!
Our full schedule is as follows:
Saturday, January 14, 2012
Sunday, January 15, 2012
Originally posted to the Ubuntu Classroom blog by Elizabeth Krumbach on January 11, 2012 at 5:53 UTC