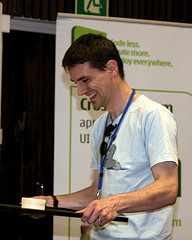 Top Kubuntu developer Aurélien Gâteau (agateau) has been honoured with an Akademy Award for 2010. The Akademy Awards are given out each year at the annual KDE Akademy conference; the jury being formed of previous prize-winners.
Aurélien won the award for his work on Gwenview, the image viewing application which ships with Kubuntu. He was also commended at Akademy for his work in getting the KDE Status Notifier specifications adopted by the Ubuntu project, where they are known under the name Application Indicators along with necessary DBusMenu additions.
The annual Akademy conference is being held this week in Tampere in Finland, a city just fifteen kilometres from the small world-famous town called "Nokia" after which half of the worlds' mobile phones are named. Developers and contributors at Akademy are discussing their plans to make the KDE Platform, Plasma workspaces and Applications rock even harder. Much of the discussion is about how to integrate with Intel and Nokia's Meego mobile system.