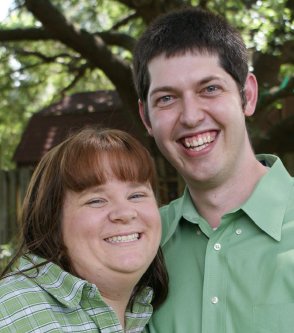 Isabell Long: Firstly, please tell us a little about yourself.
Michelle Hall: I'm Michelle Hall. I'm a stay-at-home mom to two children, ages 6 and 4, and I'm happily married to Michael, who is mhall119 for those who lurk in the Ubuntu IRC channels. I'm an avid reader, and I absolutely love to cook and bake. It's a passion.
IL: What inspired you to get involved in the Ubuntu community?
MH: It's rather quite amusing, as I was dragged, kicking and screaming, into the community. I really had no interest, I didn't use Ubuntu, I didn't think I'd be welcome on a number of fronts. I'm not a technically-inclined person at all; I didn't think I'd have anything in common with the 'geeks' Mike talked of. But, he was active in our Florida loco, and he came to me one day to ask for my help, as the Loco was coordinating a release party for Jaunty, I believe it was, and the party was in danger of being canceled because there was no one available to coordinate and host it, so he asked if I'd be willing. Put on the spot, and wanting to support my husband, I agreed. Much to my surprise, the Loco flung its arms open for me, and really made me feel welcome. My preconceived notions were far from actuality; the group is so warm and inviting. It's been quite amazing. I've been active ever since, and have more recently become active with Ubuntu Women.
IL: What are your roles/what are you active in within the Ubuntu community?
MH: I'm mainly active within my loco, coordinating parties, hosting events, cooking for herds of geeks. I'm also working on expanding the loco and making it welcome to families and spouses who, like me, may have no interest in geek-speak. I've not been able to spend as much time on that as I'd like, and hope to pick it back up in the months to come. I also have a dream of a U-W women's event, a global event where we can all video conference together. It may be nothing more than a pipe dream, but some day I hope to see it come to fruition. I'm also working with Amber Graner to coordinate UbuCon for the Atlanta Linux Fest this year.
IL: Why do you participate and what do you like about it?
MH: Originally, I became active to support my husband, and while I know that seems silly, I really wanted to be able to share in his experiences, to better appreciate what he does. However, since then, I've really grown fond of the community, and found myself quite comfortable. I participate because I enjoy interacting with people, and I've met some amazing personalities.
IL: I notice you have a project called "Qimo 4 Kids", could you explain what it is about please?
MH: Qimo (pronounced KIM-oh) is our little distribution for children aged 3-12. We designed it, in part, for a charity we run out of our hometown, where we recycle computers and give them to at-risk, special needs children. The characters are inspired by our children. Our mascot is an Eskimo, inspired by our son Quinn. We regularly sang him a song written by Bob Dylan, called "The Mighty Quinn," in which the main character is Quinn the Eskimo, who changes sorrow to joy. Our Polar Bear friend is named Illa, an Inuit word for "friend," inspired by our daughter, Ainsley's, lovey-bear. The OS gives children a safe, child-intuitive environment in which they can play, and it's designed to be stand-alone with no internet access, so parents don't have to worry about whether or not their children are safe. Everything is strictly educational, so children can practice learning skills, while having fun.
IL: What other things are you interested in outside of OSS and Ubuntu?
MH: I'm an advocate for special needs children within our community, and I've been working with parents of children who have been newly diagnosed to understand their diagnoses, and explore support options. I feel strongly about how children with special needs should be educated and cared for, and it's my goal to provide support to as many parents as I can, so they can feel hopeful about their futures, and those of their children. And I love to experiment in the kitchen. I'm always ready to chat food!
[Discuss Michelle Hall's Interview on the Forum]
Originally posted by Isabell Long in Full Circle Magazine Issue #36 on April 29, 2010