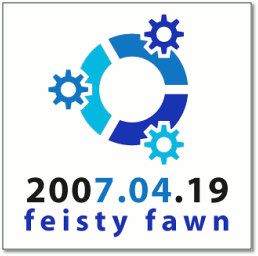 Thursday, April 19, 2007 – The Kubuntu development team is proud to announce the release of Kubuntu 7.04, development codename "The Feisty Fawn". Kubuntu prides itself on working towards the perfect KDE GNU/Linux solution, and with this latest release the development team worked harder than ever to do just this. Kubuntu is based on the award winning Ubuntu Linux operating system, however Kubuntu sports the latest in the K Desktop Environment. This latest release includes many updates, new features, and the latest releases of your favorite applications. Starting with KDE 3.5.6 for the desktop, Kubuntu also ships with K3b version 1.0, Amarok 1.4.5, OpenOffice.org 2.2, Kopete 0.12.4, and more. The Kubuntu development team has worked hard to incorporate the best usability and accessibility features, to tame the edginess, and to provide yet another stable and secure computing environment for everyone.
The Kubuntu development team would also like to thank all of its users for the testing and input provided during the development cycle, and of course a big thank you to the entire development community involved with this release.
For the complete release information and download information please review the Kubuntu 7.04 Release Notes.