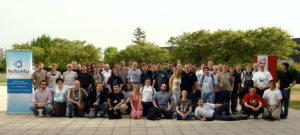 UDS Paris: Ubunteros and Developers gathered in France
As time rolls on and the release of Edgy as Ubuntu 6.10 draws ever closer, discussion and planning of the next Ubuntu Developer Summit (UDS) has begun. At the summit, "Edgy+1" (the version of Ubuntu following 6.10) will be discussed, planned, debated and documented. We have been given sneak details of UDS Mountain View!
This Developer Summit will take place at Google's headquarters in Mountain View, California, USA between Sunday 5th November 2006 and Friday 10th November 2006. As ever, this is not a conference with talks and panels, but a developer summit with discussions that debate and flesh out specific ideas and plans for Edgy+1. These discussions result in specifications that are planned for the next edition of the distribution. The specific areas that will be discussed at the summit will be announced closer to the time, and for more details as they happen, visit the Ubuntu Developer Summit Mountain View page
UDS Mountain View is open for anyone to attend, but remember it is very developer focused, so probably unsuitable for those without an interest in participating in Ubuntu. If you would like to attend, click here to add yourself to the attendees page. We also have limited sponsorship available. To apply for sponsorship, click here.
If you can't make it to the summit in person, we are also working to make the summit as accessible as possible for external contributors. The collaborative 'Gobby' application will be in use for writing specifications, see the Participation page as more information becomes available. Start planning those flights, ferries, trains and ride-shares to reach California!